Here we invite you to engage in critical and constructive discussions about the requirements for a sustainable economy and economic science. With curiosity, openness and a sense of responsibility, we show the diversity of what is already conceivable and feasible today.
Debate series: Economists for Future
PLURALIST ECONOMICS & SUSTAINABILITY
Impulses for a future fit research and teaching in economics
On the current state of economic education in German speaking higher education
Factsheet | Economists for Future
The PDF document summarizes the latest research results concerning academic economics (especially educational programs). 15 Facts about economic education.
⯈ Download [July 2020]
Why the climate crisis challenges modern economics
Discussion paper | Economists for Future
The climate crisis affects not only environmental economics, but the entire discipline. Even in the face of the corona pandemic, the issue retains its urgency. This article is intended to initiate concrete discussions on necessary and appropriate consequences for the economic sciences. The discussion contribution is the result of several months of internal debate and is intended to further substantiate the international E4F call of the end of November 2019.
⯈ An invitation to discuss [May 2020]
Further voices & positions that demand concrete consequences.
We must think about the economy differently - more humane, fairer, more ecological!
Impulse paper for a future fit economic education | Netzwerk Plurale Ökonomik
In order to contribute to such a change, a working group from the Netzwerk Plurale Ökonomik has categorized and updated the demands from the 2012 Open Letter into an impulse paper. To date, there has been no such comprehensive text, which bundles the network's criticism of the current state of economics and enriches it with concrete and progressive suggestions for improvement.
⯈ Short version (4 pages) and full paper  (40 pages) can be found in Infos & Download [May 2020]
Sustainable development in German higher education
Position paper | BuFak WiSo
In view of the rapid transformation of the Earth's systems due to climate change, threatening biodiversity loss, soil degradation and desertification, water scarcity and pollution, as well as the current worldwide shortage of resources and global food insecurity, the German Conference of Student Councils for Economics and Economic Social Sciences will advocate for a transformation towards sustainability (see WBGU 2011). We call for a strategic and operational implementation of sustainability at universities.
⯈ Download [November 2018]
Sustainabilty and ethics in higher education
Position paper and demands | netzwerk n · sneep · Weitblick · Was bildet ihr uns ein?
The majority of our universities does not yet provide students with the skills they need. For a fundamental structural change in the university landscape towards a more sustainable and ethical action, research and teaching is needed that is more concerned with the exploration and transfer of knowledge that will help to overcome the current ecological and social crises. However, this also means that the universities themselves, their operations and their governance must become models for a sustainable society.
⯈ Zum Download: Kurzversion und ausführliche Version [Oktober 2017]
DEBATE SERIES IN MAKRONOM: ECONOMISTS FOR FUTURE
Impulses for a new understanding of the economy
What are the consequences of the climate crisis for our economies and the way we think about them? In a series of debates – in cooperation with the online magazine for economic policy Makronom – we present economic perspectives and various aspects for discussion. The subsequent publication of the articles on Exploring Economics provides free access to past contributions.

The articles critically and constructively deal with current gaps and challenges in climate economics and economic policy. This includes, for example, how to deal with uncertainties and complexity as well as questions of sustainable economic practice and path dependencies, social and ecological foundations, and appropriate climate policies..
PART 2 | September To … 2020
(each week there is a new publication: The next text is published on the 02.11.)

The different transformation paths towards the 1,5 degrees objetive
Sabine Fuss & Michael Jakob
With the Paris Agreement of 2015, the international community of states has agreed on certain temperature targets. How these are to be achieved will also be a societal decision.
The climate catastrophe is not a parking ticket
Stephan Juricke & Björn Suckow
Dealing with uncertainties is part of every science – including climate science. But this does not mean that there is no reason to fight climate change with determination.
Post growth in times of corona
It inspires hope to see the far-reaching measures politicians can take once a situation has been identified as a crisis. But in the climate crisis, political will alone is not enough as long as existing discourses on why and how to invest and regulate remain untouched.
The everyday economy for a good life
Richard Bärnthaler, Andreas Novy, Leonhard Plank & Alexandra Strickner
The Covid-19 pandemic has shown that some economic zones are more important than others in securing livelihoods and providing a good life. This "everyday economy" must be tackled in order to make economies sustainable.
With growth independence towards sustainable digitization
Kora Kristof & Steffen Lange
The future of the economy will be digital. It is therefore important to set the right course today and to link the digital infrastructure with a transformation towards sustainability.
PART1 | September to Dezember 2019
(in chronologically descending order)

The precaution oriented post grwoth position
Nils aus dem Moore & David Hofmann
In the discourse on growth, climate policy and sustainability, the positions of "Green Growth" and "Degrowth" are diametrically opposed. But this unproductive antagonism can be overcome.
Climate vouchers, inequality and Holidays4Future
Unfortunately, it is often forgotten that climate protection is preventive social policy – because without climate protection it is the poorest who are worse off. In short: Social is what creates climate protection.
Post growth economics and the climate crisis
In order to really combat the climate crisis and its causes, the current economic system must be questioned more fundamentally and possibilities for socio-ecological transformation have to be examined.
Rediscovering the political of the economic
An alternative economic system in which production and natural conditions are no longer dominated by social divisions and the excessive pursuit of monetary exploitation is needed. In order to meet this demand, economics as a discipline must undergo fundamental change.
The blind spots of neoclassical climate economics
Lia Polotzek & Joachim Spangenberg
To confront the climate crisis, we must radically change the way we do business. But the prevailing economic theory is a major obstacle on the way to the necessary more sustainable way of doing business. It also leads to policy recommendations that systematically ignore the possibility of a post-growth economy.
The climate crisis as a crisis of economics
Katharina Keil & Max Wilken
Economics should answer fundamental questions regarding our economic system in the face of the climate catastrophe. Instead, all too often it remains in an abstract, mathematical model world in which climate consequences become calculable risks and political realities and power interests are ignored.
Why we need an agile climate politics
Jonathan Barth & Jakob Hafele
The apparent unambiguousness of the economic analysis of measures feigns a calculability that has nothing to do with reality. Rather, climate policy in particular requires an approach that can react flexibly and at the same time promote the development of new innovative solutions: so-called agile policy design.
How the climate-neutral restructuring of Germany as an industrial location can succeed
Jan-Erik Thie & Benjamin Görlach
German industry, which is enormously innovative, is in a position to develop and market many of the technical solutions needed to achieve climate neutrality. However, this is not a foregone conclusion, but also requires a long-term commitment from the public sector.
A true green new deal should also strenghten democracy
The climate issue must take into account not only ecological but also social aspects. After all, sustainable macro-management, which can reflect nature in terms of price, but whose direction remains privatized, will not save either the climate or democracy.
How the turnaround towards a sustainable financial system can succeed
A consequent energy turnaround would be the best cure for the European economy, which is constantly in danger because of its  fossil energy dependency.
In order to achieve this goal it is elementary that the financial architecture is restructured according too strict sustainability criteria.
Economics without existential necessity?
The necessity of achieving the 1.5 degree goal cannot be understood if there is not even an understanding of the need to maintain oneself. In this respect, standard economics is conceivably ill-equipped to meet the challenges of socio-ecological transformation.
What modern climate economics should consider
The theory of expected utility used by researchers such as William Nordhaus is not suitable for making recommendations for climate policy action. Instead, climate economists should rather present a range of strategies that emerge in the light of available knowledge and all ethically legitimate assumptions.
OTHER CONTRIBUTIONS ON EXPLORING ECONOMICS
Additional contributions
….
Selected recent publications
Edited volume: economists4future
| Lars Hochmann (Ed.)
The climate crisis, the financial and economic crisis and the corona pandemic have one thing in common: they expose the fragility of our economy and show how dependent we as a society have become on it. Old, apparently proven solutions no longer work, …

It is time for the economic sciences to smash the prayer wheel of efficiency and self-interest and show new visions for a better world. With contributions from Maja Göpel, Uwe Schneidewind, Silja Graupe, Sebastian Thieme, and others.
⯈ Further information here [August 2020]
International Report: Beyond economics as usual
| Economists for Future International

This report (in English) attempts to better understand the general disciplinary inertia in the face of the climate crisis and asks what it means to treat the climate crisis as the crisis it is. To this end, interviews were conducted with nine leading economists: Jayati Ghosh (Jawaharlal Nehru University), Yanis Varoufakis (Greek Parliament), Dimitri Zenghelis (LSE Grantham Research Institute), Jane Kabubo-Mariara (University of Nairobi), David Colander (Middlebury College), Penny Mealy (INET Oxford), Michael Jacobs (University of Sheffield), Claudia Kemfert (DIW Berlin) and Grieve Chelwa (University of Cape Town).
⯈ Download [July 2020]
| Claudia Kemfert

In around 120 questions and answers, facts and connections in the climate debate are explained and numerous facets of the debate are taken up, from climate skepticism to eco-dictatorship, from CO2 tax to emissions trading. In addition, more than 50 recommendations for action show how and where companies, politicians and citizens can concretely implement the change. 
⯈ Further information here [April 2020]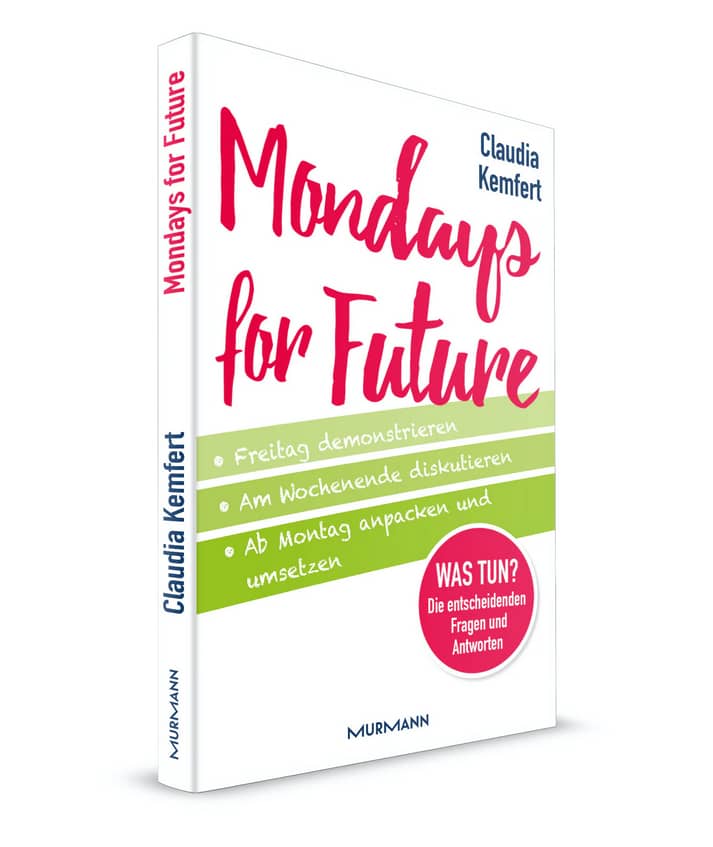 Book: Unsere Welt neu denken
| Maja Göpel

Our world is at a tipping point, and we feel it. On the one hand, we hardly ever feel it, but on the other hand, distortions, destruction and crisis show up wherever we look. Whether environment or society – apparently at the same time our systems are under stress. We suspect: It will not, will not and cannot remain as it is. How do we find a way of life that reconciles the well-being of the planet with that of humanity? Where is the path between prohibitionist regimes and questions of guilt on the one hand and growth mania and promises of technology on the other?
⯈ Further information here [February 2020]